Founded on May 25, 1947, Hyundai is a very active company in the automotive industry, military construction, electronics as well as shipbuilding. It is a company that was created by Chung Ju-Yung who is headquartered in Seoul, South Korea. This brand would later settle in France in 1992. Today it represents a benchmark brand in many industrial fields.
Hyundai now offers the broadest range of powertrains on the market, ranging from petrol and diesel combustion engines to electrified hybrid, plug-in hybrid, electric and hydrogen engines thanks to our BlueDrive range.
All models are distinguished by unique comfort, a high level of finish and equipment and competitive TCO positioning.
Hyundai Entreprises also has nearly 200 points of sale and service, including more than 55 Hyundai Business Centers. Hyundai Entreprises is finally a dedicated Corporate team, in charge of relations with Key Account customers.
Hyundai Entreprises is an efficient and credible alternative for the mobility needs of many companies.
The philosophy behind the brand
The word "Hyundai" means modernity. Chung Ju-Yung has also always wanted to push ideas further and question things. To engineers saying he demanded impossible things, he replied, "Have you tried? ". This phrase has become famous at Hyundai and probably inspired this very funny advertisement broadcast during the Superbowl 2012.
The brand slogan "New ideas. New possibilities. "Illustrates this state of mind.
What's behing this logo?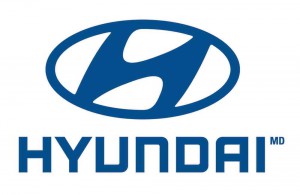 At first glance, the Hyundai logo appears to us as a simple stylized H. But think again! There (as in any good logo), there are significant elements to discover.
The oval around the letter represents the builder's continual desire for expansion. And if you have the imagination, you should see, in this leaning H, two people shaking hands, representing the relationship between the company and the customer.
The color blue was chosen to inspire excellence and confidence.
(Source: Hyundai)